Description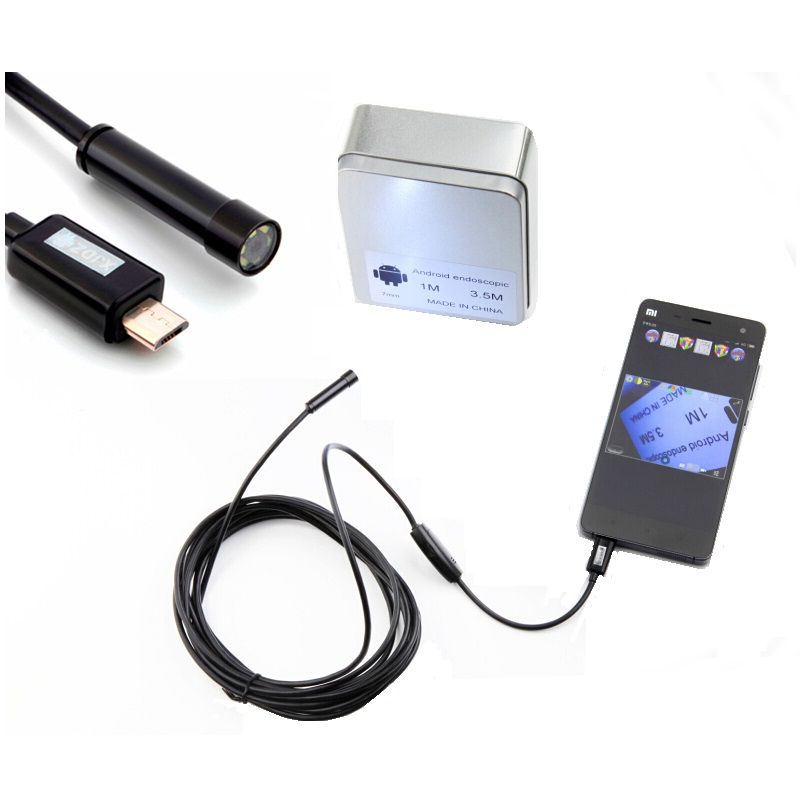 Caméra endoscope 7mm pour Android
Taille: 1M
Build in a control button, can capture a
image
and take a
video
, and the photos & video file will directly stored in your Android mobile phone, the whole process of record check, convenient observation and follow-up analysis.
There's also a turning wheel used for adjust the brightness of six LED lights so that work in some area without enough light.
I

deal for intraoral camera system, underwater camera, waterproof Micro-cameras, motor vehicle detector, sewer pipeline detector, search and rescue, criminal and custom detector, archaeological detect, the PCB detection, home care, aviation and space industries, care and tractors industries, petroleum drilling industries, constructions and so on.
S

pecifications :
Camera head outer diameter is 7mm
Total length : 1M / 3.5M
Waterproof level : IP66
Resolution : 640 x 480, 30ftps
Android interface.
Focal distance : 6m
Net Weight : 0.12kg
Gross Weight : 0.16kg
Packing size : 120mm x 90mm x 40mm
P

ackage includes :
1 x Android Borescope
1 x User Manual
1 x Original Storage Box
U

ser method :
It's very easy to operate this android endoscope, just download an App and inserted the endoscope in your device, the App
will automatic recognition it.
Mobile Brand
Support
Nonsupport
OPPO
R7005/R7Plus/OPPOR2017/OPPOR3007/OPPOR7007/ find7/A31/A33/A51/A53/N5207
Except OPPO R/A series
Samsung
Note Series (Note2 or above version), S5 above version
S4 below version (Support S4 Part of new manufacture)
Other models : I9300 / 9500 / I9308
GALAXY A5 / SCH-P729
XiaoMi
XiaoMi3 / Mi4 /Mi Note
XiaoMi3 below
XiaoMiHongMi
HongMi2 above
HongMi2 below
LG
NEXUS5/D855/F400S/F400I/F350L/F320S/F320L/F310I/F240L /G3/GPro2/G2/Optimus G Pro/Optimus LTE2/Optimus G V10 L24/G4
Motorola
NEXUS6 /MOTO E/XPRO/Moto G
Moto G
Sony
Sony Xperia-Tablet Z1 over version/L50H Z2/LT26i C3(S55T) SGP321/Z3 Xperi/SL/SGP312/Z2L50H/Z139T
ASUS
Nexus7 / Zenfone C/ZenFone2 /ZenFone 5
TCL
idol3(i806)
HUAWEI
G7/B199
TECLAST
X89 DUAL
HTC
E8/M8/NEXUS9/9088/802D/M7/M9/M8t/D826w/m9+
Pantech
Vega Popup Note / Vega Iron2 / Vega Secret Up / Vega Secret Up / Vega Secret Note / Vega Iron / Vega No6 / Vega R3 /
google
nexus5/nexus6
Ietv
X600/1S
Pantech
Pantech Vega Popup Note / Vega Iron2 / Vega Secret Up / Vega Secret Up / Vega Secret Note / Vega Iron /
Vega No6 / Vega R3
Teclast
TECLAST X89 DUAL
VIVO
X3s/X31/Vivo maxL/X510t /X5Max/X6/x510
ZTE
ZTE V5 Series/ZTE 718/V5/V5S/V5max/U9180/N9180
MEIZU
X5L/MX4/PRO/MX5/x2
Others(Made in China)
BBK / Lenovo are nonsupport.Because the phone's supplier blocked peripheral camera function.

Tips
Please kindly check your cell phone supports function of OTG.
---
Information Coronavirus
Compte-tenu de l'épidémie les délais de livraison peuvent être allongés. Les services postaux font tout leur possible pour respecter les délais d'acheminement des colis, cependant, en raison des possibilités de transport limitées, des délais prolongés sont à prévoir. Nous vous remercions pour votre compréhension et votre patience.