Description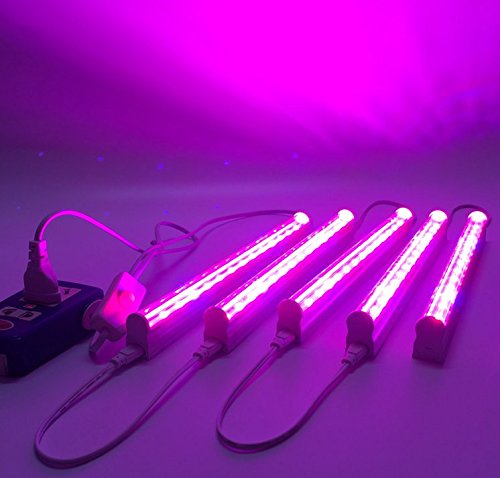 Set de 5 lampes LED culture d'intérieur

Different wavelength of light has different effection to plant.Plant's growth needs photosynthesis. Research shows that 400-710nm wavelength of light plays an important role for plant , 455nm(Blue color light) and 660nm(Red color light) are playing the most important effection to the growth of plant .
455nm and 660nm wavelength of LED light are used to make LED grow light, when they match up with each other , the color of the light is purple red .
About 455nm wavelength of light (Blue light) . It can promote the absorption of chlorophyll and carotenoid for plant , in this way, it has big effection for the growth of leaf and fruit .
About 660nm wavelength of light (Red light) . It plays the most important role for the photosynthesis of plant , so it has big effection for plant's root growth, promote and prolong the florescence, increase the products.
Tube Size: W20*H35*L295mm
Emitting Color: 10 Red +4 Blue each tube(14led)
Working Voltage: AC85-265V
Wavelength: Red 660nm; Blue: 455nm
Packing :
5pcs x T5 LED Grow Tube
1pcs x 1.2M EU/US Plug Switch Wire
4pcs x 17CM Connect Cable
4pcs x install components

---
Information Coronavirus
Compte-tenu de l'épidémie les délais de livraison peuvent être allongés. Les services postaux font tout leur possible pour respecter les délais d'acheminement des colis, cependant, en raison des possibilités de transport limitées, des délais prolongés sont à prévoir. Nous vous remercions pour votre compréhension et votre patience.